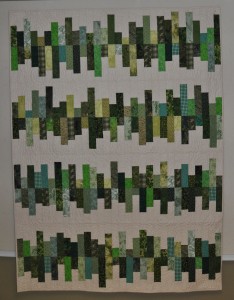 Today was Lindsay's wedding.  Lindsay has been part of our family for what seems like forever.  Lindsay is the same age as our son and has been a best friend to our daughter over the years.
I made this quilt as a wedding gift for Eduardo and Lindsay.  The pattern is Random Reflections by Karrie Lyne from Freckled Whimsy and can be found on the Moda Bake Shop site.  The quilt is 60″ x 80″ which is larger than the pattern.  I wanted this to be a quilt that could be used to wrap in on cool winter nights while watching TV.  When I asked our daughter what Lindsay's favorite colour was, she replied, "You know how I like purple and green?  Well, Lindsay likes green and purple."  That comment made me chuckle.  Since my favorite colour is also green, there is no shortage of green fabrics in my stash.  And so, this quilt was made from strips of the many green fabrics that line the shelves of my studio.
This is the backing fabric that I used on this quilt.  It is called, "The Bee's Knees" by Terrie Mangat for Free Spirit Westminster Fibers.  I wanted something that was a bit modern looking since I was told that the groom prefers the "modern" look.  This fabric had a touch of purple for the bride and the large design made it very modern looking which was perfect for this quilt.
This is Lindsay and her Dad walking down the aisle.

Lindsay was Maid of Honour for our daughter two years ago.  And today our daughter was Matron of Honour for Lindsay.
The happy couple with our DD.
My husband and I with the happy couple.